G-AUDZ Bristol Tourer (c/n 6115)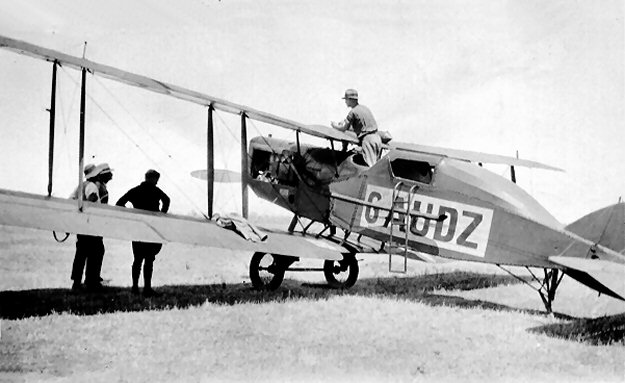 This aircraft was a re-build from the wreck of G-AUDH and given the same c/n. Both photographs
in this entry are from the Geoff Goodall collection. The one above shows the aircraft being readied
for flight with Captain F.T. O'Dea looking on. This rare shot was taken at Tambellup, Western
Australia in 1929. The image below shows the WA Airways designed horn balanced rudder (non-
standard on most Bristol Tourers - see the shot of G-AUDK). It had a couple of private owners
in the late 1920s and crashed at Ceduna, SA on 6 June 1930 . The Australian civil register shows
G-AUDZ as having been re-registered VH-UDZ in February 1931, although since it was effectively
written off that prior June that entry seems superfluous. At the foot of the page is a photograph
gleaned from the West Australian newspaper for 12 April 1929 showing F.T. O'Dea and J. Lowrie
setting off from Maylands in G-AUDZ in their historic search for Keith Anderson and Bobby Hitch-
cock. The latter two had flown their frail Westland Widgeon G-AUKA

'Kookaburra'

to search
for Kingsford and crew in what became known as the 'Coffee Royal incident" (Smith's supplies,
when they opened them after the crash apparently were mysteriously reduced to some chocolate, a
few biscuits and half a pound of coffee). In the event Andersdon and Hitchcock died of exposure in
the brutal desert in which they had come down.