G-AUDH Bristol Tourer (c/n 6115)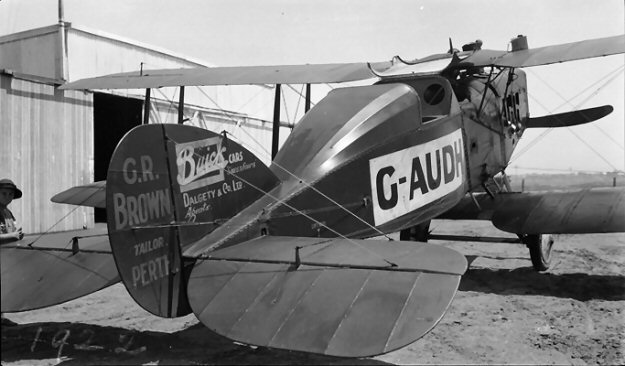 This WA Airways Bristol Tourer is carrying a plethora of advertisements on the fin and rudder.
First registered in November 1921, it crashed at Port Hedland, WA on 15 July 1924. Some
metal parts of it along with new woodwork were used to rebuild it and, when completed, it was
given the new rego G-AUDZ. The above image has been preserved and made available by the
Historical Records Rescue Consortium Project supported by Lotterywest, and is part of the State
Library of Western Australia collection. In the shot below, from the Australian Inland Mission
collection, another ad is displayed on the tail, this one for Sun Insurance. It is possible it was
taken around the the same time, and that the Tourer had different messages on both sides of the
tail.