VH-UOM Vickers 198 Viastra II (c/n 2)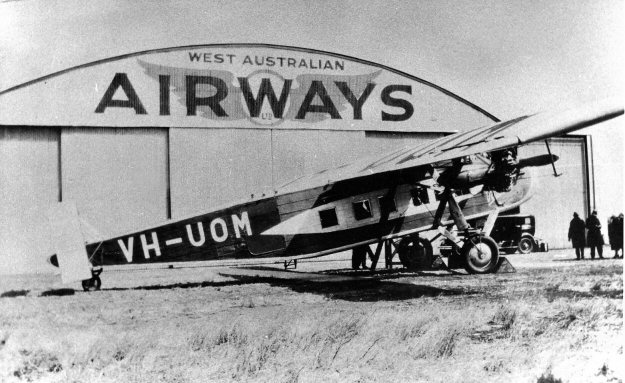 This Vickers Viastra II was one of two imported by West Australian Airways in 1930-31. The other
was VH-UOO. They were built at Vickers' Supermarine Works at Southampton. A third was ordered
but not accepted. Based on experience gained with the first machine, -UOM's construction differed in
several respects: the gauge of the wing skin panels was increased due to buffeting from the slipstream,
the tailwheel tracking was improved and triplex safety-glass windows replaced the original panels which
had proved unsatisfactory. -UOM was shipped to Fremantle, arriving on 29 September 1931. During
assembly at Maylands it had a searchlight fitted for night landings. In WAA airline service the Viastras
had an unhappy career, suffering numerous engine failures, mostly caused by the gearing of their Bristol
Jupiter XIs. Combinations of different Jupiter engine models and propellers, including 4 bladed propell-
ers from RAAF Wapitis were tested. In addition the leading edge wing slots caused problems, and the
type suffered many forced landings. They were known at the time as the Vickers "Disasters". After a
run of forced landings across the Nullabor Plain between Perth and Adelaide, -UOM's career came to
an abrupt halt on 11 October 1933 when, soon after taking off from Maylands, a Jupiter engine seized
and the wooden prop splintered, resulting in a forced landing in a market garden in the Perth suburb of
Redcliffe. The aircraft was being flown by veteran Captain Harry Baker with 11 passengers bound for
Kalgoorlie and Adelaide. The aircraft was a complete write off but the hardy passengers set off again
for Adelaide a few hours later in a DH.66, with the same pilot Harry "Cannonball" Baker. Try that
today! Photo above via the Geoff Goodall collection, taken at Maylands circa 1932, whilst the image
below is courtesy of the State Library of South Australia collection. Finally, at the foot of the page is
a nice photo from the Frank Colquhoun collection showing -UOM in company with two more WA
Airways machines, the D.H.66 Hercules VH-UJP and the D.H.50A VH-UFN.