G-AOVD Bristol 175 Britannia 312 (c/n 13235)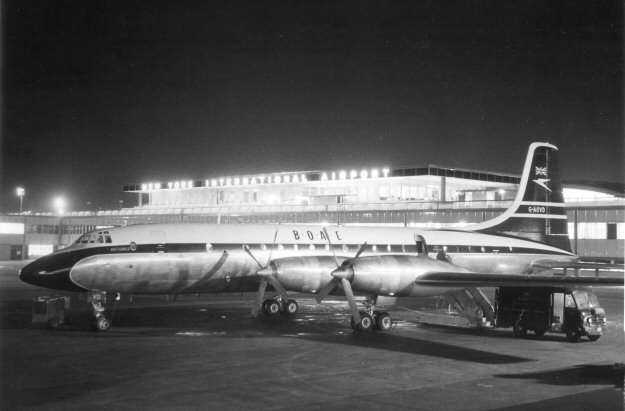 Here's a nice night shot of the ill-fated G-AOVD at Idlewild Airport in 1958.(New York's Inter-
national Airport wasn't renamed John F. Kennedy untiil 1963). On 24 December 1958 the aircraft
was on a test flight in connection with the renewal of its C of A. After performing the necessary tests,
the crew requested a descent from 12000 feet to 3000 feet. Some 3 minutes after starting the descent,
the aircraft struck the ground in dense fog near Winkton, Dorset The Britannia was fitted with a three
point altimeter which had proven complicated on more than one occasion (see G-ANBB). A high
degree of attention was necessary in interpreting the altimeter correctly. The cause of the accident
was given as a failure on the part of both the captain and the first officer to establish the altitude of the
aircraft before and during the final descent.