CF-BUA Pilgrim 100-B (c/n 6608)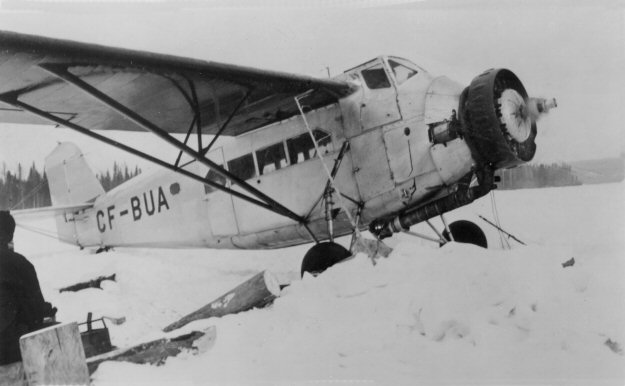 This aircraft was a direct descendant of the Fairchild 100 seies. In the depression days of the early
1930s Fairchild had become part of the Aviation Corporation group (AVCO) which controlled
American Airways (later to become American Airlines, but that's another story). All sixteen of the
Pilgrim 100-As were delivered to American Airways, and the example above was one of them,
being previously registered NC712Y. (It may never have actually carried the "NC" prefix). This
particular aircraft was converted to a model 100-B in 1934. The main difference was the substitution
of the original Pratt & Whitney Hormet "B" engine for the more powerful Wright R-1820-E Cyclone
A popular misconception aspires these aircraft as having been built by American Airways, but that is
not true. They were built by Fairchild. However, due to the former reasoning they are usually called
"American Pilgrim" but just plain "Pilgrim" is probably more correct. This one came to Canada in
1941 from Alaska, and went to British Yukon Navigation Co in Vancouver. Then to Southern Yukon
Air Transport (who also flew the Barkley-Grows). It passed to Canadian Pacific Airlines in 1943 when
they absorbed Southern Yukon. Why it was registered CF-BUA (a 1947 series) in 1941 is not clear.
Anyway, in 1944 it was sold to TACA Honduras, S.A. who also operated two other Pilgrims.