Pioneer Air Lines Douglas DC-3 NC54729 (c/n 13439)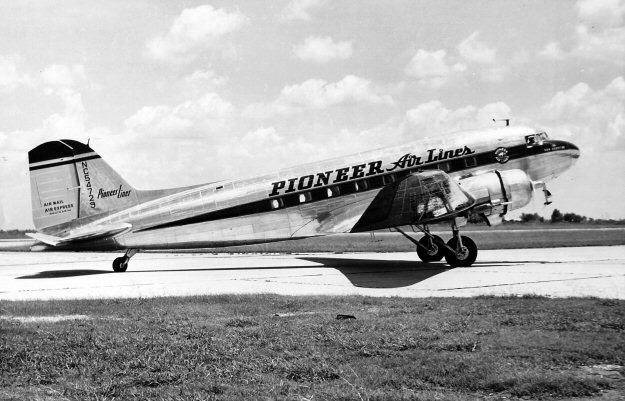 By 1939 the newly installed regulator of the airlines, the Civil Aeronautics Board (C.A.B.) recog-
nized the need for a level of carrier below that of the domestic trunk airlines currently operating.
These "feeder" or branch lines would link to the trunk lines at what today would be termed hub air-
ports. The first of this new type of airline was Essair, of Houston, Texas. Originally incorporated
in 1939, Essair began a temporary experimental (albeit scheduled) service between Houston and
Amarillo, via Abilene. Well, as you can imagine, Braniff screamed like the proverbial banshee.
Neverthless, in November 1943 the C.A.B. overruled Braniff's objections to Essair flying the route
and stated that the smaller company was better qualified to operate the limited service than a trunk
carrier. In the event, Essair commenced regular scheduled services under the new "Feeder Airline"
nomenclature on 1 August 1945. Their original equipment was three Lockheed 10A Electras.
Unfortunately I do not have an image of one. DC-3s were soon added. On 17 June 1946, Essair
changed its name to Pioneer Airlines. Seen above is ex C-47A-25-DK 42-93518 carrying the
name "

Sam

Houston

". Twenty of these workhorses were ultimately to appear on the books of
the airline.