Pan American Airways Douglas DC-7C Seven Seas N743PA (c/n 44885)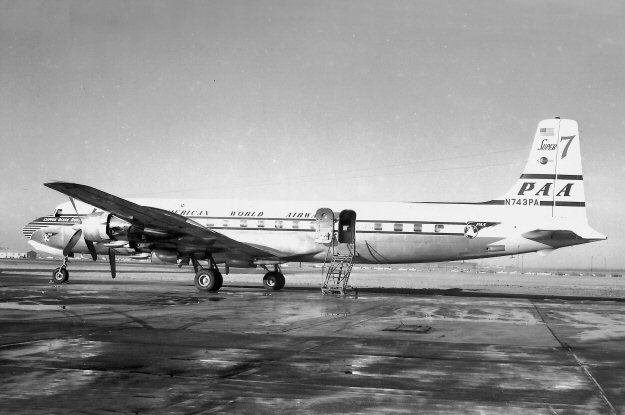 This shot of "Clipper Ocean Rover" was taken on a very oily hardstand at LAX in 1959 as the
aircraft was preparing to depart for London Heathrow. These long range versions of the DC-7
were used by both Pan Am and Scandinavian Airlines System on the "Over the Pole" services
from the U.S. west coast to Europe, non-stop. Not, I might add, a very pleasant journey.
Quite often a "technical stop" (i.e. to refuel), had to be made at Bluie West Four in Greenland.
One definitely did not want to leave the aircraft on such occasions! Pan Am had a couple of
dozen of these large piston engined airliners. They were replaced in 1958/59 by the early
Boeing 707s. N743PA led a varied career after Pan Am sold it to Intercontinent Air in 1966
(it became N74303, since it couldn't really operate with a Pan Am style rego). It was finally
impounded at Freeport, Bahamas in 1981 while registered to Juan Rodriguez. (Unpaid taxes.....
.....drug smuggling?).