VH-UOG General Aircraft Genairco (c/n 16)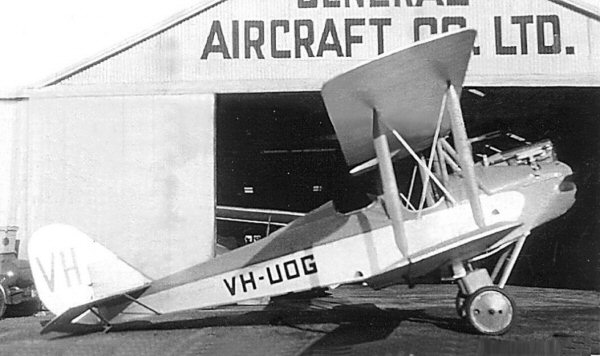 The General Aircraft Company Ltd was formed in the late 1920s at Mascot, NSW for the purpose
of manufacturing light aircraft of Australian design Two designs were produced, the Genairco Cabin
and the Genairco Open, also known as the Genairco Moth. This latter was a conventional single-bay
biplane with the fuselage based on the D.H.60 Moth and the wings based on those of the Avro Avian.
The fuselage, however, was wider than that of the Moth and allowed for two side by side passengers
in the front. Only 10 Genaircos were built; -11 if you include the seaplane completed by Tugan.
VH-UOG was delivered on 2 June 1930 with a 105 hp Harkness Hornet engine, which was replaced
five months later with a 130 hp Gipsy Major Mk. II. Photo No 2, from the Frank Walters collection,
shows the Genairco at Mascot sometime in the early 1930s (no data on the diamond on the rudder).
Image No 3*, taken from an article appearing in the Sydney Morning Herald for 21 November 1930,
shows well the wider forward fuselage. The caption indicates that the Governor of NSW was hand-
ing over this 'First Australian-built Moth to the Aero Club' Not true on two counts. The first Genairco
was VH-UNC and VH-UOG never did see service with the NSW Aero Club. However, for ribbon
cutting purposes this, clearly, was near enough! Actually, -UOG later became Goya Henry's well
known aircraft when his legal actions against the Commonwealth resulted in a complete change in adminis-
tering the rules of the air in Australia. Photos Nos. 4 and 5 from the Hood collection, via the State Library
of NSW show the aircraft when owned by Henry and name

d 'Jolly Roger'

Item # 6* is an extract from
the Sydney Morning Herald of 28 February 1945 detailing its sale by auction. 390 quid in those days
was a substantial sum. Clearly Cpl Griffiths was either a man of some means or the RAAF paid its
enlisted men awfully well! Image No. 7 is from the Geoff Goodall collection and shows VH-UOG in
western NSW during the 1950s. By 1956 this aircraft was owned by Oscar Roche of Tottenham
NSW, who also had the Genairco VH-UOD, and he flew it until it was retired in 1964. It was then
stored at Tottenham until acquired by Joe Drage who transported it to his newly established Drage's
Historic Aircraft Collection on a farm at Wodonga Victoria. When the Wangaratta City Council, or
forefathers, or whatever, elected to sell off this historic collection of aircraft, VH-UOG was sold to
Roy Fox in NSW who, hopefully, will have it restored to health one of these days!

* Newspaper articles researched and unearthed by Graeme Parsons of Sydney.


2.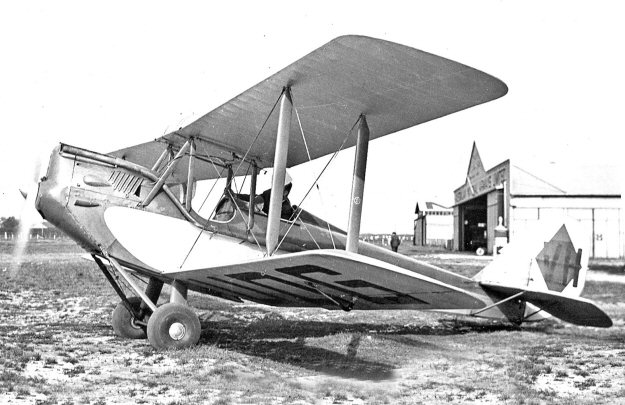 3.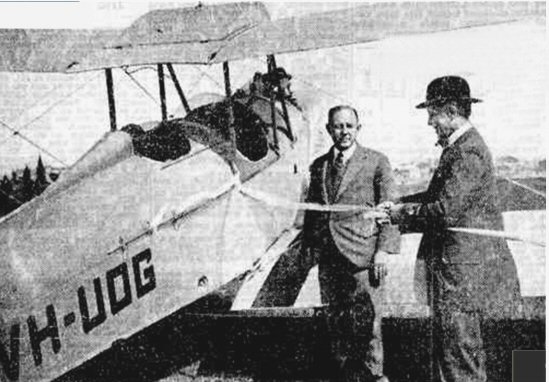 4.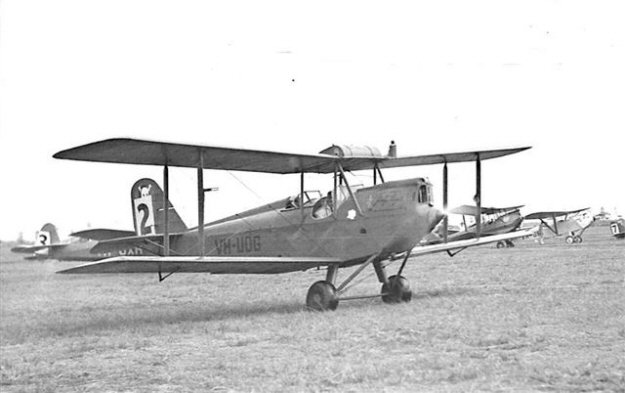 5.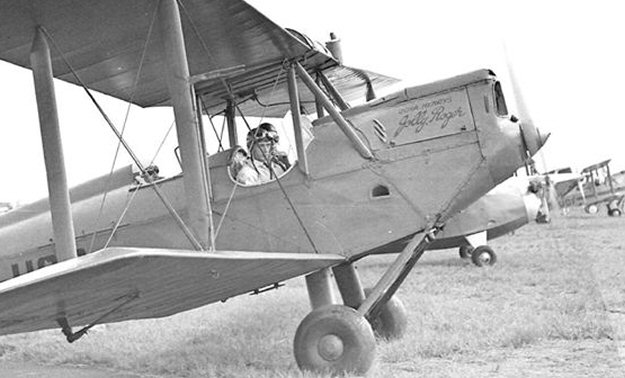 6

.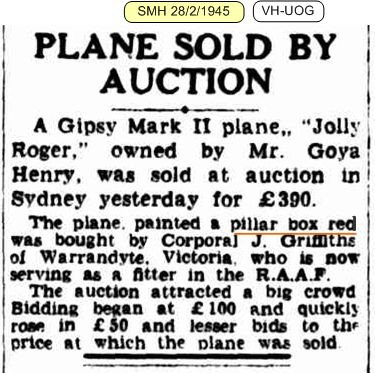 7.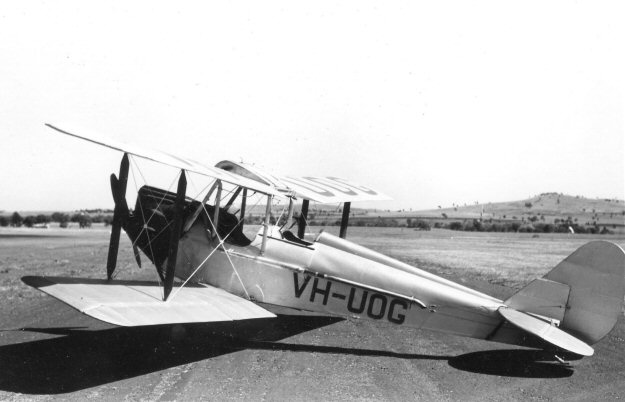 .