VH-UKZ Amsco Parasol Monoplane (c/n 1)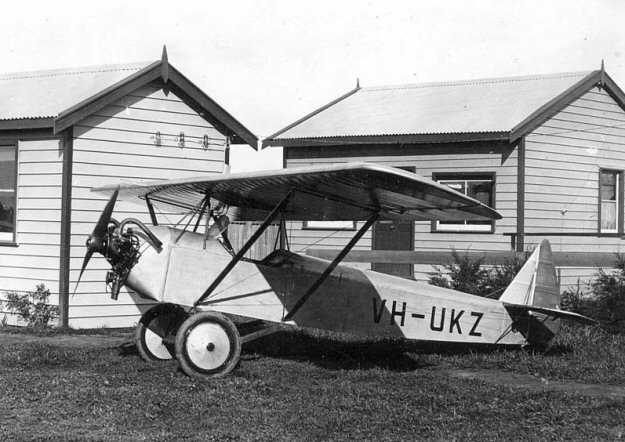 The rare shots above and immediately below are from the Kevin OReilly collection. The one at the
foot of the page is from a very small photo I gleaned from somewhere in the dim distant past. The
Amsco Parasol was a one-off (based on the Heath parasol) constructed by Percy Pratt of Geelong.
His brother, Charles Pratt, was a New Zealander who learned to fly during WW I in Egypt. When
demobbed, Charlie acquired 2 DH6s, an Avro 504 and a Sopwith Pup and crated them up to be
delivered to Wellington. On the way back he was delayed in Melbourne by a shipping strike, so he
had one of the DH6s put ashore and quickly set up a joy-riding enterprise at Belmont Common, just
outside Geelong. Brother Percy then joined him from New Zealand as his mechanic and, in the event,
Charlie, a Gallipoli survivor, never did make it back to New Zealand (at least to stay). The two
brothers formed Geelong Air Service, and in 1929 Percy designed the Amsco Parasol. (that's him
sitting on the wheel in the photo below). Power was supplied by a 34 hp ABC Scorpion. The
Amsco's C of A lapsed in July of 1931 (in fact, just a few days before I was born) and was never re-
newed. Charlie Pratt went on the fly for the airlines in Australia, whilst Percy became a noted motor
cycle racer and dealer..