VH-UKW Junkers F.13 (c/n 2044)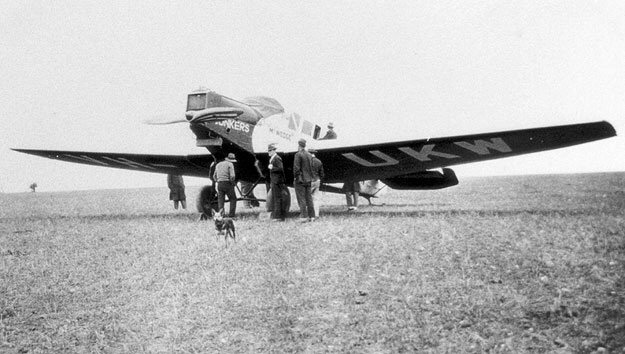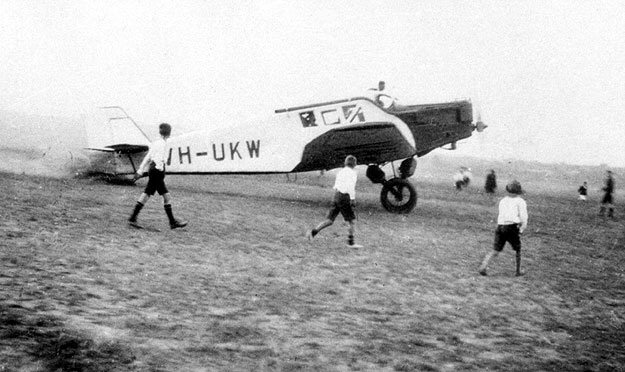 From the Geoff Goodall collection comes this pair of fascinating photos of the rare Junkers F.13. I especially
like the outfits of the schoolboys in the lower shot! Originally imported in 1929 for Eyre Peninsula Airways of
Adelaide, VH-UKW, like most of the large Junkers transports, wound up doing duty in the goldfields of New
Guinea. It was transferred to Goldfields Air Navigation Ltd of Kalgoorlie in 1931. From February of 1932
until August of 1938 it was operated by Guinea Airways, and, after a series of accidents wound up derelict.
It was apparently shot up on the ground, possibly at Alexishafen in 1942, but evidently by that time the Nips
were wasting their ammo, since VH-UKW clearly would never have flown again anyway. Possibly the pilot
of the Zeke claimed it as an enemy "combatant" aircraft destroyed! The photo at the foot of the page is from
the Civil Aviation Historical Society archives and shows -UKW after it had been fitted with the Bristol Jupiter
engine.
Fred Niven expands on the history in detail::-
Originally named 'Tannenmeise'. It arrived Port Melbourne, ex Hamburg, on the S.S. 'Kernak' 19/6/29.

Test-flown 25/6/29 by A.E. 'Pard' Mustar.
Registered VH-UKW 'Mt. Wedge', to Eyre Peninsula Airways Ltd. 25/6/29 (CoR 299).

Flown to Adelaide 9/7/29.

Eyre Peninsula Airways ceased
operations 10/30 & it was retained by J.H. Moate; one of the directors of E.P.A.

It arrived Kalgoorlie 18/12/30; the 1st all-metal aircraft to do so.
To Goldfields Air Navigation Co. Ltd. (founded by J.H. Moate), Kalgoorlie, WA, 7/1/31.

Registered 18/2/31.

It was damaged at Merredin, WA, 20/2/31,
on a Perth-Kalgoorlie flight. Purchased by Guinea Airways 31/10/31 for £650.

Registered VH-UKW to Guinea Airways Ltd. 5/11/31 (980 hours).
It was received by Guinea Airways in need of an overhaul, which cost £400.

Flown to Sydney by Capt. Charles W. Snook.

A proving flight was
flown Lae-Port Moresby 29/2/32.

Its 1st scheduled service was 23/3/32, operating between Port Moresby & the goldfields, at a fare of

£15.

It was
given Fleet Number '6' 27/3/32.

It operated the 1st Port Moresby-Kokoda service 28/9/32. It operated the first official Port Moresby-Lae-Wau airmail flight
30/9/32 (pilot F. Drayton) & operated mainly Port Moresby-Lae-Wau & later to Kokoda.

A 425hp Bristol Jupiter VI engine replaced the 310hp Junkers L-5 engine
8/32, re-entering revenue service 1/12/32.

It was forced-landed at Kokoda 28/8/32 & was fitted with an additional fuel tank 12/32.

After a forced-landing, due lack of
fuel 1/12/33, it was fitted with an extra fuel tank.

It was Struck-Off-Register 4/11/35.

A Pratt & Whitney A2 engine was installed 11/11/35 & its CofR renewed the
same day.

It swung off runway, on landing, at Slate Creek, NG 11/11/37 (pilot Syd W. Wiltshire) & was badly damaged.

Repaired.

It again crashed 15/10/38, at Salamaua,
NG, when the undercarriage collapsed.

The pilot, W.J. Robins, was shaken, but otherwise unhurt.

It crashed 26/8/39, at Narakapor, NG, after engine failure (pilot Les H. Ross).


It was damaged beyond repair & written-off.

Struck-Off-Register 11/3/42.

It remained derelict at Alexishafen.

Its remains went to the PNG Defence Forces, Lae, 1990.