G-AUTL de Havilland D.H.61 Giant Moth (c/n 325)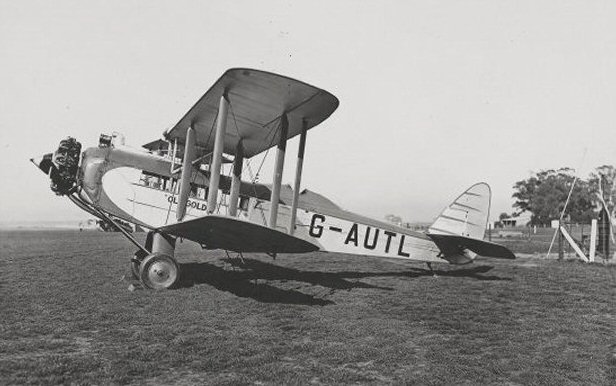 Built as G-EBTL, this aircraft was acquired by MacRobertson Miller Aviation in 1928 and became
the out-of-sequence G-AUTL. Evidently MMA wanted to retain its 'last two'. They named it 'Old
Gold'. Re-registered VH-UTL in 1931, it was sold to West Australia Airways who operated it,
along with VH-UQJ on their North West Air Mail route from Perth to Wyndham. Due to its large
(for the day) passenger accommodation it was, in all probability, used on the Perth to Carnarvon
segment of this long route. Both DH.61s went to New Guinea Airways in 1935, although were only
operated for a year before being withdrawn from service. The DH.61s were actually described as
"dismal failures" as regards New Guinea operations was concerned. They did not perform well in the
hot, high and humid conditions. The above image is from the Horrie Miller collection, whilst that be-
low, from the Alan Betteridge collection, also shows the Giant Moth as G-AUTL '

Old Gold'

. The
third shot, from the Ted Fletcher collection (via the Civil Aviation Historical Society/Airways Museum
archives) shows the machine in the early 1930s as VH-UTL. The penultimate image from the Geoff
Goodall collection shows -UTL after one of its many forced landings whilst with MacRobertson Miller
Aviation. Finally at the foot of the page is another crash shot, also from the MacRobertson Miller days,
this from the Adelaide Advertiser of 25 August 1928. The aircraft apparently ran out of fuel on a flight
from Mt. Gambier to Adelaide with 9 passengers aboard (none of whom, surprisingly, were injured).
Interesting to note, in this shot, how crudely the G-EBTL has been overpainted G-AUTL on both the
fuselage and upper wing! -UTL's CofA was suspended at Lae in April 1936 due to its poor condition
and Guinea Airways did not repair the aircraft. It was struck off the register on 17 September 1936.