VH-UQY de Havilland D.H.60M Moth (c/n 1565)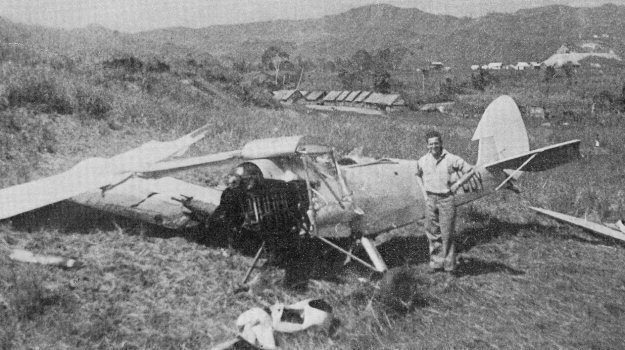 An image of VH-UQY in one piece would be welcomed.......In the event, the only picture I have
been able to glean is this one of one its its several prangs, which comes from the excellent book by
James Sinclair entitled

'Wings of Gold - How the Aeroplane Developed New Guinea'

The book describes how -UQY was the first aircraft with which WWI flier Eric Stephens set up his
company Stephens Aviation at Wau, and -UQY's various crashes and rebuilds including this one at
Lower Watut on 22 March 1936: The narrative goes on:-
"In March 1936, George Mendham was doing some flying for Stephens Aviation and on a
flight between the Slate Creek and Upper Watut aerodromes, loaded with cargo for the
mining camps, the Moth was caught in violent cross winds, stalled and crashed. Mendham
was injured and Dr Von de Borche, who walked in to the crash site, insisted he be carried
by stretcher to Slate Creek aerodrome, where Neville Bruchhauser, ignoring the very bad
weather conditions, flew him out to Wau in a DH.50 where the unfortunate "Bendum and
Mendum" was admitted to hospital."

-UQY was rebuilt yet again and met its end on takeoff at Wau in August 1940 when it ran off the
steep downward-sloping strip, narrowly missing two parked Guinea Airways aircraft to run into
the Administration Store, with most of the Moth inside the wrecked building, pilot B.G.Hargreaves
climbing out of the debris uninjured!