VH-UJO de Havilland D.H.66 Hercules (c/n 344)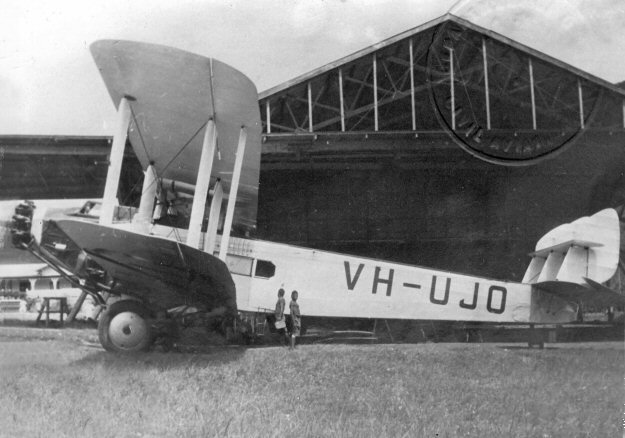 The above shot, from the Geoff Goodall collection, and the image immediately below from the Len
Dobbin collection, both show this large biplane in the latter days of its career at Lae, New Guinea
in 1938. The third photo shows it as G-AUJO whilst with West Australian Airways circa 1929.
The D.H.66 was built to an Imperial Airways specification for a three-engined seven passenger air-
craft to fly the Cairo to Baghdad air mail route. Their performance so impressed West Australian
Airways that they ordered four themselves, to replace their D.H.50s. It appears that the WA Air-
ways machines had a 14 passenger configuration. G-AUJO was the first and was delivered on
1 June 1929. Major Norman Brearley was the founder of West Australian Airways (in 1921), and
it claimed to be Australia's first regular revenue passenger airline. -UJO was sold to Eric Stephens
of Stephens Aerial Transport Co of Wau, New Guinea in 1936, along with -UJP. However, while
-UJP went north immediately, -UJO did not, and was stored in the WAA hangar at Forrest on the
Nullabor Plain until Stephens (now reorganized as Stephens Aviation) could come up with the final
payment. It was then stripped of its seating, flown to Sydney (in July 1937), overhauled by DHA
and finally arrived in Lae in June 1938. VH-UJO met its end when it crashed at Marble Creek,
New Guinea on a flight from Salamaua to Wau on 6 February 1941. .It was missing for four days
until found by searching aircraft. The shot at the foot of the page, submitted by Rowan Hughes,
comes from the Brian Grey collection (courtesy of Denis Grey) and depicts -UJO the day before it
crashed. It appears that strong winds were gusting on that day and it is possible that the Hercules
might have been caught up in a down draught. In the event, Carpenter's hangar was also destroyed
on that day by these severe winds.