VH-TOM (5) Hawker Siddeley HS.125 Series 403B (c/n 25242)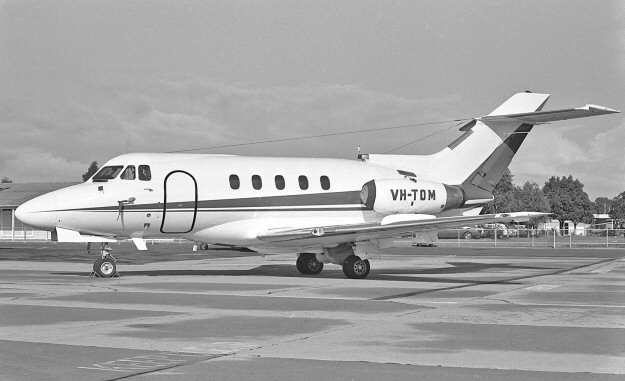 VH-TOM was purchased new off the production line in 1970 for Tom The Cheap (WA) Pty
Ltd. It was delivered to Perth, arriving on New Year's Day 1971. Tom the Cheap Grocer
was a successful wholesale grocery store chain in Perth founded by Tom Wardle who became
Perth's Lord Mayor during the nickel mining boom. The jet replaced a Piper Aztec 250 with
the same registration, and when the mining boom ended, the HS125 was sold back to England
to become G-BDKF. It didn't remain there long and was sold off in December 1975 as
3D-ABZ. Since Swaziland (3D-) tends to be a "register of convenience" (like Panama was for
ships, years ago), whether the little jet ever reached that South African country in reality is not
known. (It probably operated from the Rand Airport in South Africa, but that's just a guess).
As an aside, VH-TOM was tested as a camera mount by Adastra Aerial Surveys in June 1973
who were seeking a machine for photography at 40,000 ft. In the event it proved to be an un-
stable platform for such use and was abandoned in favor of using a Boeing 707 for its high altitude
photography. The two photos on this page were both taken at Perth Airport in June 1971 by
Geoff Goodall. The photo below, from atop a gantry, exemplifies the squat appearance of these
early HS.125s.