VH-RMI Vickers V.832 Viscount II (c/n 416)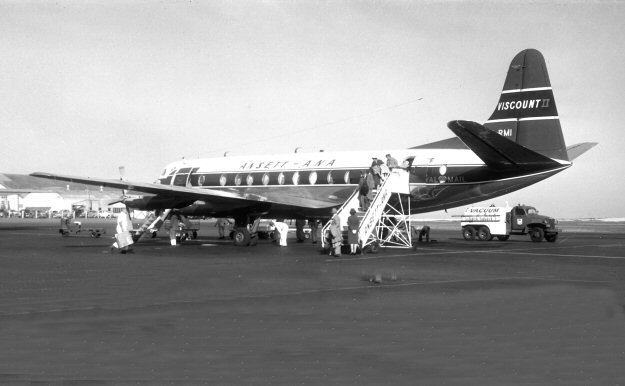 VH-RMI flew its first Ansett service in March 1959. Whilst operating flight AN149 from
Mt. Isa to Brisbane via Longreach on 22 September 1966 Capts. K. Cooper and J. Gillam
reported a fire in the # 2 (port) engine as a result of cabin pressurization blower failure. This
quickly spread to the port wing fuel tank resulting in failure of the port wing spar. The aircraft
broke up in the air as it was descending into Winton, Qld. and crashed at Nadjayamba Station
killing all four crew members and 20 passengers. Greg Banfield's representative photos of
this doomed airline were both taken at Mascot: (above), in March 1961 and (below), depart-
ing the airport in 1965 and now sporting the V tail logo. Finally, at the foot of the page is an
image from the CAHS collection showing -RMI in yet another variation of the tail markings
employed by Ansett-ANA.