VH-KRY Cessna 401 (c/n 401-0096)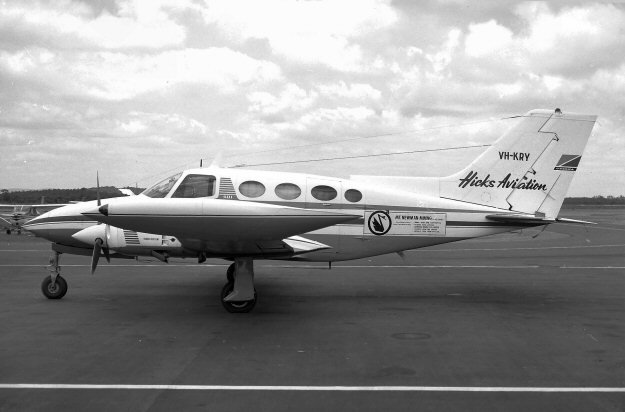 <>
This 401 was first registered on 3 August 1967 as a new import for Hicks Aviation at Jandakot
It was used for charter as well as their Hicks Airlines scheduled services to Morowa, Mullewa,
Geraldton, Yalgoo, Mount Magnet, Cue, Meekatharra, Wiluna and Sandstone with Cessna and
Beech twins and a leased Skyvan FSG. >The company was founded in 1964 by Phil Hicks, who
had previously been an instructor with the Royal Aero Club of Western Australia. He later
founded Perth Flying School which was taken over by Perth Piper agents Millard O'Sullivan Avia-
tion. The Hicks operation was taken over in 1971 by Australian Transport Airservices. Seen
above is - KRY at Jandakot in January 1969 while on long term contract to Mount Newman
Mining Company, one of the major iron ore exporters in the north of WA. It had many sub-
sequent owners, one of which was Bill Suhr's Peninsular Air Services, as seen in the shot immed-
iately below taken at Moorabbin in July 1977. Both afore-mentioned photos by Geoff Goodall.
By the time Ian McDonell came across it at Cessnock, NSW in September 2009 (foot of the page)
it was pretty well derelict, although it must have looked quite sharp in the latter stages of its career.