VH-EAP Douglas DC3C-S1C3G (c/n 12873)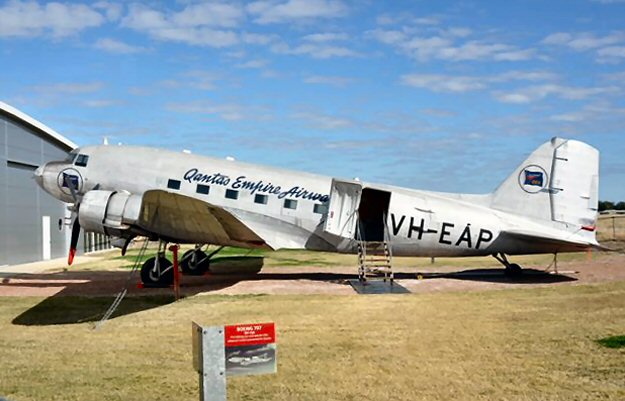 This DC-3 has been restored by the Qantas Founders Museum at Longreach, Queensland and
painted in the airline's original livery. .These lovely color shots were taken by Ken Watson in 2010.
Formerly A65-44 it carried the call sign VHCIA during WW II. Civilianized in June 1948, it was
re-registered VH-EBY(2) in July 1957. When sold by Qantas in 1960 it went to TAA for their
New Guinea Sunbird Services as VH-SBG.. It was then registered in PNG, initially as P2-SBG
and then P2-ANP (in 1975).. Sold to J.J. Ford III in 1981, it was registered N5590A, but returned
to the Australian register the next year as VH-BPL for Air Queensland (carrying on the Bush Pilots
series of regos). A freighter by this time, it was withdrawn from use at Cairns when Air Queensland
ceased operations. It then had a series of owners until acquired in 1996 by John.D. Williams of
Cambridge, Tasmania, who kindly donated it to the Museum. At the foot of the page is a rare
image of -EAP over the Owen Stanley Range, New Guinea in the late 1940s from the collection
of Hugo van de Garde who acquired some of the photographs of the late Dutch aviation journalist
Hugo Hooftman.