VH-BOY CAC CA17 Mustang Mk. 20 (c/n 1364)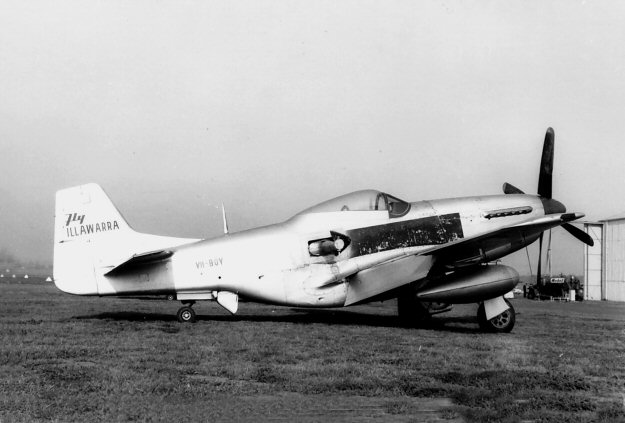 This photograph is by Richard Maclean and was taken at Moorabbin in the early 1960s. Both
this shot, and that of the following aircraft (VH-BOZ) were taken at the same time. The object
protruding from the starboard side of both aircraft is the arm of a target towing winch. This was
normally powered by a propeller (removed when these shots were taken) on the outer end and a
cable drum on the inner end, the tow cable being fed out through the chute just forward of the tail
wheel. The aircraft were two seaters with a winch operator facing aft behind the pilot. The aircraft
were registered, at the time, to Fawcett Aviation of Bankstown, of which the Illawarra Flying School
was a subsidiary, hence the 'Fly Illawarra' slogan. Both VH-BOY and -BOZ were used on RAAF
and RAN target towing contracts. This Mk 20 was formerly A68-39 with the RAAF and declared
surplus in 1959. It was exported to the USA in 1983 and is still extant as N551D registered to the
Erickson Group in Beaverton, Oregon. Interestingly, the FAA quotes the msn as 44-14826 (which
was a true US built P-51) and was a contrivance to get the aircraft onto the US civil register, since
at the time it was impossible to get foreign built military aircraft registered in the US. Such subterfuges
abound in the American 'warbird' scene, especially among Mustangs! I am indebted to David Muir
for much of the above information on this machine and also for that of VH-BOZ. John Hopton's
nice color shot below was taken at Cessnock, NSW in October 1969 during Army target tug towing
exercises.