VH-ARA de Havilland D.H.82A Tiger Moth (c/n DHA226)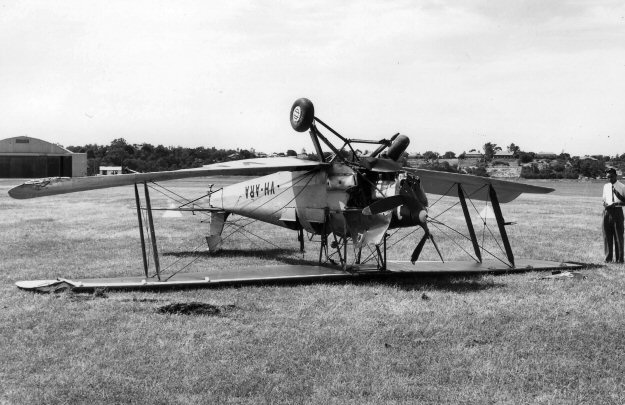 Here's -ARA at Maylands on 12 December 1955 after a landing accident while with Royal Aero
Club of WA. The wreck was purchased by Basil Taylor & Co and rebuilt at Maylands as crop-
duster VH-BTX in December 1959. It ended up with Bob Couper Co at Cunderdin WA who
modified it as a utility aircraft to carry spare parts and freight in the enlarged front cockpit compart-
ment to their wide-spread Tiger fleet across the WA wheatbelt. BTX was badly damaged by fire
while tied down at Cunderdin on 6 January 1964 and was part of the large collection of agricultural
Tigers in the Couper hangar at Cunderdin in 1968, along with several sets of wings marked "VH-ARA"
The original one, seen above in this photo from the Geoff Goodall collection, was ex A17-225.